I am pleased to welcome New Mexico River Adventures to our Santa Fe Selection Travel Guide. The rafting season is here, and riding our beautiful rivers with expert guides is the perfect way to enjoy New Mexico with friends and family.
New Mexico River Adventures is a top outfitter for water sport fun on our beautiful rivers. They offer an excellent headquarters facility, with a full stock of equipment and supplies, changing rooms and shop. NMRA start their season usually as early as March 15 and run right through to October 1st. The water is nice and high right now, and it's time to plan your trip. NMRA owner Matthew Gontram, has written about what we can expect,  from the water conditions to some of their excellent river experiences happening this summer…
This 2017 rafting season is shaping up to be the best in recent years. We have received a healthy snowpack in the Sangre De Cristo mountains, which will lead to a long and wonderful run-off on the Rio Grande and Rio Chama.
Water levels fluctuate throughout the season with the highest flows historically coming the last week of May and the first two weeks of June. Fortunately, the Rio Grande has fun, "runnable" flows all season long.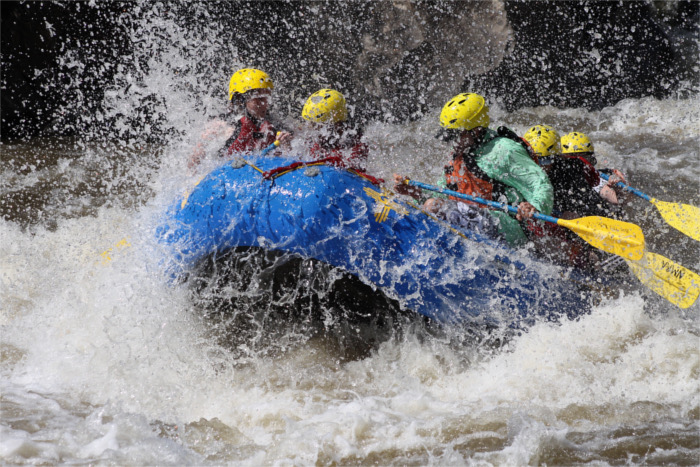 TIME FOR WHITEWATER
For the thrill seekers, the Taos Box and Razorblades trips are optimum in May and June. The Taos Box is New Mexico's premier whitewater run and in the top 10 best single day whitewater trips in the United States.
Our full day trips are also known for their excellent riverside lunches, serving up delicious, fresh, hot fajitas!
CALMER RIDES
For those in search of slightly calmer waters that are suitable for younger kids and families, the Rio Grande Gorge Full Day, Half-Day Racecourse, and Orilla Verde Float are always great options throughout the season.  We can accommodate children as young as 4 years old. On the Racecourse morning and afternoon trips are available. Our snacks on the half-day trips have been family tested, and our guests claim them to be the perfect mid-trip refreshment, with fresh fruit, chips and salsa, and cookies to satiate any growling bellies- so you can concentrate on having a good time.
On the Orilla Verde Float, you can spot mule deer, river otter, beaver, birds of prey and other wildlife. You'll float through the historic village of Pilar, and one of the most scenic sections of the canyon.
The best time to enjoy Stand Up Paddleboarding is from later in May all the way through September.  The water levels and the warmer weather are ideal for this fun and exciting new river sport.
SPECIALTY TRIPS
We offer a number of customized and specialty trips. One of our most popular specialty trips is with our partner, New Mexico Wine Tours, called Whitewater and Wine Tasting Day Trip. Your day will start off with New Mexico Wine Tours picking you up from your hotel, home or wherever you're located, and taking you directly to our Rafting Headquarters. After your half-day river adventure, you'll freshen up at our headquarters, and then you can wind down as New Mexico Wine Tours takes you to our top boutique wineries, such as Black Mesa Winery and others located in the lower Rio Grande River Valley. It's a wonderful way to spend the day!
For the gourmet river adventurer, we have a couple of different multi-day trips on the Rio Chama that will leave you breathless and satisfied. Both our Gourmet Wine-Pairing Trip (with Vivac Winery and Chef Rocky Durham of Blue Heron Restaurant) and our Beers & Cheers Trip (with Bosque Brewing Co.) offer on-river tasting and dining experiences unlikely to be found anywhere else. Essentially, it is cruising on the river with a gourmet eatery and tasting room. The 2017 Gourmet Wine-Pairing Trips have all booked up already, so you might want to get in touch for 2018s.
When conditions permit, the Rio Chama Full Day Trip is a wonderful excursion with mild rapids and towering sandstone canyon walls. Dam regulated flows make for excellent late summer Chama rafting too. Throughout the season, we offer a variety of dates for the most pristine wilderness river trip in New Mexico, The Rio Chama Three-Day Adventure. All the while, our knowledgeable guides make sure all your needs and comforts are met.
Kayaking
When the water levels are lower, later in July, August and September, it's optimal for our inflatable kayaking trips on the Racecourse, and Rio Grande Gorge full-day trips. Our expert guides know where all the best splashes, swimming spots, and hidden gems of the river are.
The easy, 45 minute scenic drive up from Santa Fe to our headquarters in Rincoñada, along the Rio Grande, offers stunning views of Black Mesa at the bottom entrance to the Rio Grande Gorge.
For an inside peek at our facility and the New Mexico River Adventures experience, check out our video: https://www.youtube.com/watch?v=wPJg29Vtad4
Getting on the river is an excellent way to experience New Mexico. For New Mexico River Adventures outing details, and to book your trip, click here or call (800) 983-7756 for details. Remember to mention Santa Fe Selection when you call. New Mexico River Adventures is offering 10% off with Promo Code: RAFTNM.
For questions or help planning your visit to Santa Fe and Northern New Mexico, or to ask about special discounts on lodging, more activities, and unique things to do, visit: SantaFeSelection.com Travel Guide & Concierge, or call us at (505)470-2991, or email info@santafeselection.com
Thank you for reading our blog article. If you'd like to receive our monthly posts, please sign up here.