Daylight is fading fast and you want to make it to Truchas along the High Road to Taos before sunset so you set off from Chimayó, along Route 76 toward Taos. En route is Centinela Traditional Arts Weaving Gallery,  El Meson de la Centinela Inn, Oviedo Carvings & Bronze Foundry & Ranch.
As the road rises out of the valley, you're greeted by the snow-covered peaks of Truchas; tinted pink in the setting sun. And spread across the ridge before you, along the Quemado Valley is the tiny, historic village of Cordova.
The village was originally named Pueblo Quemado, after an ancient Indian pueblo, which had been destroyed by fire. After being the target of multiple Indian attacks, the Spanish settlement was abandoned in 1748. But just a few years later, in 1750, the Spanish settlers returned and named it Cordova after an important local family.
And on the opposite side of the road is the silhouette of Georgia O'Keeffe's favorite monolith, Cerro Pedernal. She is known to have painted this subject 28 times during her  career.
Just a few miles further and you reach Truchas (Spanish for trout) named after the river that irrigates the farms of the area. Truchas sits 8,000 feet above sea level. It's charm and remoteness appeals to many, and in particular artists.  Many have settled here making Truchas a special artist community, and art enthusiast destination. Some of us remember Robert Redford's movie, "The Milagro Beanfield War," which brought notoriety to the village in the late 1980s.
As you take the road into town, just before the turn toward Taos, "Ghost Pony Gallery" sits on the left. It's winter, so not all galleries will be open without advance notice, a phone call or an email. Fortunately, artist Trish Booth Pieterse is home and you get to see some of her beautiful work.  To reach Trish call: 505 689 1704 or email: ghostponygallery@gmail.com.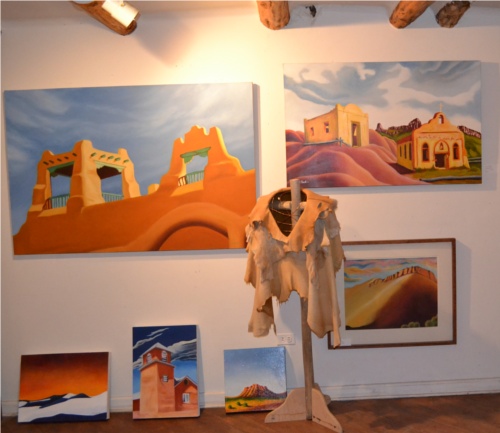 You know you'll have to return to learn more about this extraordinary area and many other artists' work. High Road Artist is a blog that helps you gain insight into the artist's life in Truchas. More details and information on the artists of the High Road can be found at http://santafeselection.com/day-trips-activities/high-road-artisans
The sun sets dramatically every night in Northern New Mexico. Tonight is no exception. And you're in the ideal spot to catch its descent.