Yesterday I had the good fortune to meet with a wonderful lady, Patricia La Farge at her gallery. She calls her collection Que Tenga Buena Mano, which means "May you have good fortune!" Patricia is well known in Santa Fe for her extensive and extraordinary collection of Latin American Folk Art, and for being instrumental in founding the now world-renowned New Mexico International Folk Art Market. I had no idea what a surprise I would have when I went to visit her gallery. I walked in and was met by an entire staircase filled with folk art, literally floor to ceiling!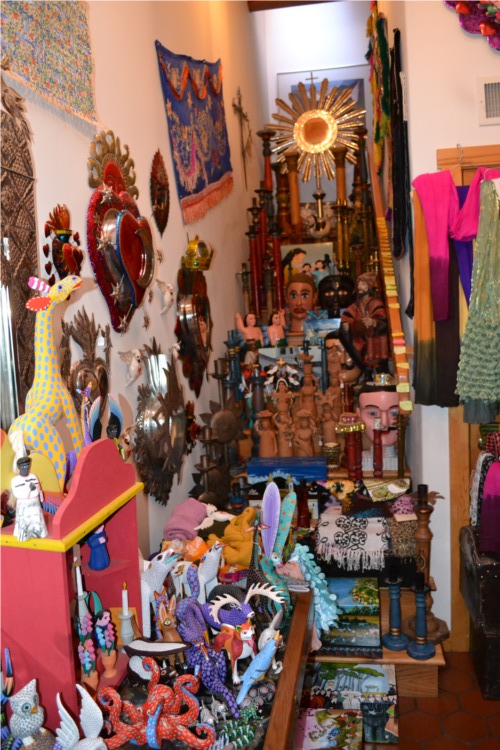 Room upon room glistened ahead as Patricia walked me through the house.
Since 1969, Patricia has been traveling in search of authentic folk art. The entire ground floor of the house is filled with vintage, antique and contemporary retablos, milagros, jewelry, tin work, silver, gold, textiles…you name it, made by renowned artists from all over the globe. She says that her travels can begin as close as El Paso and span all the way to Tierra del Fuego. She also trips to Europe annually to visit friends and gather some Mediterranean pieces.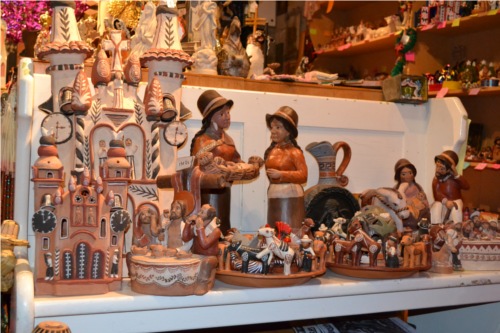 I was almost giddy from the vastness of this collection. There was the biggest display of jewelry and accessories I have ever seen! I couldn't resist buying a pair of earrings. Only $17. Lovely silver drops inlaid with abalone shell and enamel. A mere nano-tip of the earring iceberg displayed there.
And milagros and accessories for days!
This vintage chemise is embroidered silk velvet from the turn of the 19th century…beautiful!  Unlike the earrings, it was out of my price range, but a collector of textiles would snap this up.
Patricia offers discounts to wholesale collectors who travel from all over the world to buy from her museum quality collection. But she also loves to offer great discounts to those of us looking to fill many Christmas stockings, or buy special gifts from tiny to massive for big events like weddings, bar mitzvahs, and parties etc. Prices range from as little as $1 up into the many thousands.
This retablo is hand-carved and painted…
There's so much to look at, I could've spent the entire day there in discovery mode.
I had to add Que Tenga Buena Mano to Santa Fe Selection's Unique Shops category. I've been here for over 20 years and I just now found Patricia and her truly authentic Santa Fe gallery.
Patricia only opens her gallery by appointment, so I would recommend going when you need to buy many prezzies. Or that something absolutely original for someone special, or throw a large party with party favors. Or you could always open your own gallery and she would have enough to fill it for YEARS, Ha!!  You'll definitely find me there again. Patricia was a wealth of information and such fun to chat with. Thank you Patricia!! "Que Tenga Buena Mano!"
For more information go to: http://www.santafeselection.com/unique-shops/buena-mano-folk-art