It's a late winter Sunday with hints of spring warmth. We had a couple of hours to take a nice, easy road trip. The town of Madrid won the coin toss. The Turquoise Trail runs along Highway 14 between Santa Fe and Albuquerque, covering fifty miles of beautiful scenery, mountain vistas and historic mining towns.
The old mining town of Madrid, pronounced MADrid, is located on the Turquoise Trail only 20 miles south of Santa Fe. It is so close, but a half day's visit leaves you feeling as if you've traveled to another place and time.  Highway 14 doesn't feel like a highway; there's hardly any traffic, and a commanding view of the blue arcs of the Ortiz Mountains draws you in.
On the way, you can spot petroglyph markings at The Garden of the Gods. It's private land, so you can't access the area, but you can get up close and marvel at the extraordinary monolithic rock formations that stand in defiance of their immediate surroundings. It makes sense that before geology had an explanation, the gods were the only ones to credit for such unusual "plantings."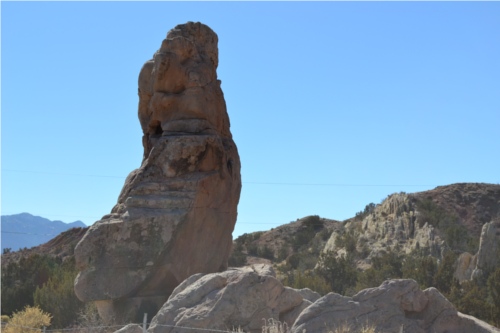 A brief stop at the tiny village of Cerrillos and the journey back in time begins. The Cerrillos Turquoise Mining Museum contains hundreds of artifacts from the American Old West and the Cerrillos Mining District. You can hike or ride horseback to explore the old turquoise and ore mines in the Cerrillos State Park. Broken Saddle Riding Company offers some of the best riding in the county. Cerrillos is so small that you don't need directions to find any of the attractions that are listed on a board as you enter town. I love its original Wild West buildings with their facades and wooden walkways, which made it the ideal location for the filming of the popular movie Young Guns in 1988. The only apparent modern updates are the cars and a stop sign.
Just three miles further along The Turquoise Trail is Madrid's welcome sign at Old Goat Road. The emblem of a baseball bat and mining pick tells of days past.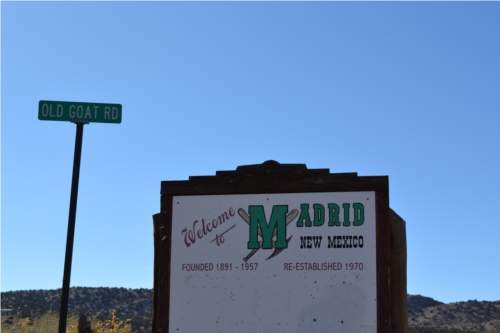 Madrid was founded in 1891 as a company mining town, and bustled with business. Coal was a highly sought-after resource in the early 1800s, and the rare geology of the area supplied both hard and soft coal to sell to the railroad industry, locals, and the U.S Government. Madrid became famous for its July 4th parades and Christmas light displays, and for minor league baseball games in the first lit baseball stadium in the West.The stadium sits on the edge of town; its baseball glory has faded, but during fairs and festivals it returns to life with parades and musical events.  In the late 1950s coal use dwindled and Madrid became a veritable ghost town for twenty years. In 1970, artists came to the rescue, claiming and reviving some of its original miners' shacks and main street houses for their galleries and studios.
Even though the trees are still in their winter sleep, the main vein through town is warm and welcoming with a colorful character and a healthy variety of unique galleries, cafes, inns and shops. Every time I visit, there's always something new to discover.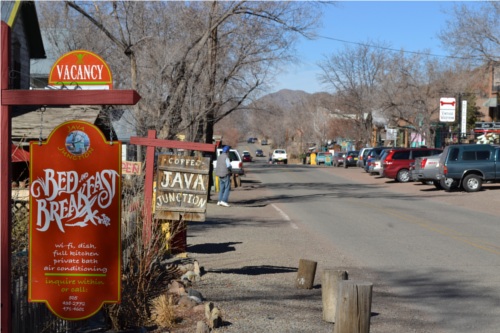 Roadside is Connie's Photo Park. Passers-by can pose as historic, factual or fictional characters. You can take as many pictures as you like – just honor the honor system by dropping a little cash in the donation box.
As the road curves at the far end of town, you meet the Mine Shaft Tavern, which was first established around 1895 during the coal mining boom. After burning to the ground in 1944, it was rebuilt in 1947. Now it offers such faves as fresh-squeezed margaritas and green chile cheeseburgers that attract fans from far and wide. And some of the best live music concerts happen at the Mine Shaft throughout the year.
Tucked alongside the Mine Shaft is an alley of tiny galleries and shops called Gypsy Plaza.
Among the many gems is the aptly named Shugarman's Little Chocolate Shop.
After traveling through time, you have to stop to refuel with delicious, hand-made, unique varieties of dark, milk and white chocolate barks, truffles, and chile and chocolate-dipped fruit! It would be criminal not to! Owner Harvey Shugarman is a food expert, a veteran chef and chocolate connoisseur, and we're lucky he chose Madrid to set up shop.
Unique to Shugarman's is the wide variety of exotic, delicious berries, nuts and fruits sold in bulk (if you choose) or delightfully harnessed in chocolate from dark to white. Among the choices are goji berries, golden raisins, mango and coconut. Harvey uses only organic ingredients and no processed sugars. So, even if you're less of a chocolate fan than many, you'll find something to pique your taste buds.
And look at the size of those cacao bean pods!! The nibs are the sugarless delicacy found within the seeds of the bean and are the beginnings of the mildly sweet creations and elixirs Harvey offers. He loves to experiment with new and unusual pairings that will delight his customers, which makes it a regular favorite of Santa Fe and Albuquerque locals to take the easy drive to Madrid and check out his latest creation. It is always a good idea to call first if you want to be sure they're open during your visit. Spring, summer, fall, he's usually open Thursday through Monday 11.30am-5pm. Call (505) 474-9041.
If we continued south along The Turquoise Trail we could explore the towns of Golden and Sandia Crest, but we'll save that for another day.
The return to Santa Fe on The Turquoise Trail keeps us entertained with stunning views of the Sangre de Cristos and Jemez Mountain Ranges.
At a leisurely pace, the entire journey through time took only 3 hours. The drive time was only an hour round-trip. It is amazing how far you can go and be only 20 miles from Santa Fe!
For more information about Shugarman's Little Chocolate Shop go to: http://santafeselection.com/chocolate/shugarmans-little-chocolate-shop
For more information about The Turquoise Trail please go to: http://www.santafeselection.com/day-trips-activities/turquoise-trail