WHEN: Sept 24, 2022- April 30, 2023 41st Season. Live Events.
Santa Fe Pro Musica presents an exciting twist on their time-honored trifecta of orchestra, string quartet, and baroque concerts for the 2022–23 Season. With new guest artists and familiar favorites, standards of the classical repertoire and newly commissioned works, Pro Musica's 2022–23 Season offers concertgoers a variety of superb and distinctive concert experiences.
Phone: (505) 988-4640
Website: http://www.sfpromusica.org/
Address: Box Office: 1512 Pacheco St, suite D201, Santa Fe, New Mexico 87505 MAP
Hours:
Tickets: $22 - $103 Call (505) 988-4640 for more information
Box Office Hours:Mon - Thur: 10am - 4pm
Lensic Performing Arts Center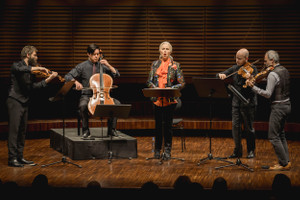 St.Francis Auditorium at NM Museum of Art
First Presbyterian Church of Santa Fe
The season will also include a variety of educational and social events, including Meet the Music presentations, youth concerts, a Bach Exploration, artist dinners, and exclusive events for members of the Coda Circle. The season opens on September 24, 2022 and continues through April 30, 2023.
Orchestra Series at the Lensic Performing Arts Center
Highlights for this season's Orchestra Series include premieres of compositions by Aaron Jay Kernis and Xavier Foley, modern works by Jessie Montgomery and Jennifer Higdon, and familiar favorites by Rossini, Prokofiev, Beethoven, Schubert, Dvořák, Mozart, Handel, Britten, and more. Featured artists include conductors Ransom Wilson, Sebastian Lang-Lessing, Sarah Ioannides, Mei-Ann Chen, and Thomas O'Connor, violinist Chad Hoopes, violist Paul Neubauer, soprano Susanna Phillips, tenor Nicholas Phan, and double bass player Xavier Foley.
String Works Series at St. Francis Auditorium at NM Museum of Art, and the Lensic Performing Arts Center
This season, Pro Musica's popular String Works Series features five of the world's leading quartets, including Quartetto di Cremona, and the Escher, Schumann, Danish, and Dover String Quartets.
Baroque Concerts
The show must go on! Due to a construction project, Loretto Chapel will be closed during Pro Musica's 2022–23 concert season. However, the acclaimed Baroque Series will continue with a celebratory Bach Festival at St. Francis Auditorium and inspiring Baroque Holy Week concerts at the First Presbyterian Church of Santa Fe.
Music for Pro Musica's Bach Festival includes Bach's Sonatas and Partitas for solo violin, selected Brandenburg Concertos, the Coffee Cantata, and the D Minor Keyboard Concerto. Holy Week concerts feature Stephen Redfield, violin and leader, with guest artists Kim Pineda, flute, and Michael Hix, baritone, performing music by Telemann and Graupner.
Click the above link for this year's performers, tickets, and more details.