WHEN: September 22, 2018 - April 28, 2019.
Join Santa Fe Pro Musica for their 2018-19 Season, featuring chamber orchestra and soloists at the Lensic, internationally renowned string quartets at St. Francis Auditorium, and holiday baroque concerts in Loretto Chapel.
Phone: (505) 988-4640
Website: http://www.sfpromusica.org/
Address: Box Office: 1405 Luisa Street, suite 2, Santa Fe, New Mexico 87505 MAP
Hours:
Call 505 988 4640 for more information
Box Office Hours:Mon - Fri: 10am - 4pm
Lensic Performing Arts Center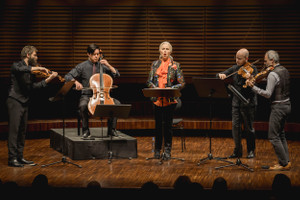 St.Francis Cathedral
Loretto Chapel
Orchestra Series at the Lensic Performing Arts Center
The Orchestra Series explores new voices from around the world. The 37th Season features 11 performances including the celebrated Brandenburg Concertos as well as works by Haydn, Mozart, Mendelssohn and American composer Jessie Montgomery. Music Director Thomas O'Connor welcomes four guest conductors to the podium: Ruth Reinhardt, Eric Jacobsen, Lina Gonzales-Granados and Gemma New.
String Works Series at St. Francis Auditorium in the New Mexico Museum of Art
The String Works Series features 3 internationally renowned string quartets in programs that juxtapose old and new masterpieces. Don't miss Miró String Quartet (USA), Cuarteto Casals (Spain) and Elias String Quartet (England).
Baroque Ensemble Series in Loretto Chapel
Join us for the Baroque Ensemble Series featuring performances at Christmas and Easter in the historic Loretto Chapel. Experience chamber music as it is meant to be heard – in an intimate, resonant and glorious space.
Tickets: $20 - $85
Click the above link for this year's star performers, tickets, concert times, and more details.