WHEN: November 22, 2020 - May 1st, 2021.
Santa Fe Pro Musica's 2019-20 Season offers three distinct concert series: chamber orchestra with soloists at the Lensic Performing Arts Center, internationally renowned string quartets at St. Francis Auditorium, and holiday baroque concerts in Loretto Chapel. The season opens September 21, 2019 and continues through April 26, 2020.
Phone: (505) 988-4640
Website: http://www.sfpromusica.org/
Address: Box Office: 1512 Pacheco St, suite D201, Santa Fe, New Mexico 87505 MAP
Hours:
Call (505) 988-4640 for more information
Box Office Hours:Mon - Fri: 10am - 4pm
Lensic Performing Arts Center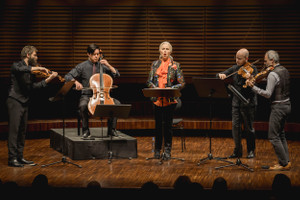 St.Francis Cathedral
Loretto Chapel
Orchestra Series at the Lensic Performing Arts Center
The Orchestra Series presents some of classical music's most beloved and iconic works, including Beethoven's Eroica Symphony, Bach's celebrated Brandenburg Concertos and Haydn's spectacular oratorio, The Creation. Also featured throughout the season are works by Mozart, Mendelssohn, Schumann, Julia Adolphe and Melinda Wagner. Soloists include violinist Colin Jacobsen, pianists Anne-Marie McDermott and Jeremy Denk, and vocalists Clara Rottsolk, Brian Giebler and Andrew Garland.
String Works Series at St. Francis Auditorium in the New Mexico Museum of Art
The String Works Series features three renowned string quartets performing both old and new masterpieces. Don't miss performances by the Pacifica, Borromeo and Brentano string quartets.
Baroque Ensemble Series in Loretto Chapel
Join us for the Baroque Ensemble Series featuring performances at Christmas and Easter in the historic Loretto Chapel. Experience chamber music as it is meant to be heard – in an intimate, resonant and glorious space.
Tickets: $20 - $100
Click the above link for this year's performers, tickets, concert times, and more details.