Join Santa Fe Pro Musica for the 2017-18 Season, featuring chamber orchestra, celebrated soloists, local favorites and nationally renowned string quartets. The season opens Sept. 23-24 with Nadja Salerno-Sonnenberg with the SFPM Orchestra, and continues through Apr 28-29 with David Felberg conducting the SFPM Orchestra featuring Benjamin Hochman, piano.
Phone: (505) 988-4640
Website: http://www.santafepromusica.com
Address: Box Office: 1405 Luisa Street, suite 2, Santa Fe, New Mexico 87505 MAP
Hours:
Call 505 988 4640 for times and concert locations & ticket purchases.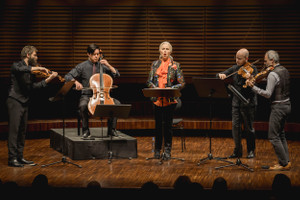 SFPM Orchestra Series in the Lensic Performing Arts Center
The orchestra series kicks off the season featuring world-renowned violinist Nadja Salerno-Sonnenberg. The brilliant Anne-Marie McDermott performs the conclusion of the Beethoven Piano Concertos, after her electrifying performance at the end of last year's season. SFPM favorites, Benjamin Beilman, violin, Conrad Tao, piano, and Benjamin Hochman, piano, return home once again to wow Santa Fe area audiences.
String Works Series in St. Francis Auditorium in the New Mexico Museum of Art
Craving chamber music in the Winter? Don't miss the enthralling Escher String Quartet and Viking masters the Danish String Quartet, and the St. Lawrence String Quartet returns with its "rock 'n' roll energy" (Los Angeles Times)
SFPM Baroque Ensemble Series in Loretto Chapel
Don't miss the iconic Baroque Series featuring Avery Amereau, contralto "sensual and achingly perfect" (New York Times), Deborah Domanski, mezzo-soprano, and Gonzalo Ruiz, baroque oboe.
Tickets: $20 - $80
Click the above link for this year's star performers, tickets, concert times, and more details.