2021 UPDATE: Most businesses are open again. Some may have gone out of business during the pandemic. I have updated the blog articles, but Please contact the establishment directly to make sure. For a list of what is open, please reference our categories at SantaFeSelection.com Travel Guide as those lists are updated regularly, but we do not guarantee accuracy. Each listing contains contact info for you to double check directly prior to your visit. Thank you for your understanding. 
To get acquainted with our area, email me at Maria@santafeselection.com with your full name and address in the U.S and I will mail you the best FREE Mini Guide Map. Maps include the downtown area, northern New Mexico day trip points of interest and my top recommendations for where to eat, and play and shop etc.
We are so lucky to have such a wide array of unique and fun things to do in and around Santa Fe. In addition to the many fantastic markets, fairs and festivals, a visit to Santa Fe isn't complete without having some time to explore the character of the area. From the expansive and varied terrain to the culinary delights, here are ten things to do, both indoors and out, that will pique your interests and tickle your tastebuds.
Remember, that if you're planning on visiting, it's always best to book in advance of your arrival to ensure availability on any tours. For specific pricing, please visit the links listed for contact information of each guide.
Explore the majestic outdoors with Great Southwest Adventures. They'll take you into the heart of Northern New Mexico's varied terrain, historic villages, ruins, and fascinating points of interest with a half-day or full day trip, or customize an outing for your party, whatever the size. Their extensive knowledge of the history and culture of the area makes for an adventure you'll always remember.
Or take an off-road excursion with Santa Fe Mountain Outfitters and get well off the beaten track into a wonderful canyon, a rugged gorge, a river valley, and more, all with beautiful vistas.  The wide-chassis UTVs are a safe and comfy ride. These are great outings for both adults and children age 5 and up.
The Rio Grande and Chama are great for whitewater rafting during high water, and kayaking, and float trips even when the levels get lower. There are many rafting, paddle-boarding, kayaking and floating opportunities offered by NMRA. They are also well-known for bringing the best food to the rivers for their guests.
Whitewater and Wine Tasting Day Trip
This excursion is with NMRA and New Mexico Wine & Scenic Tours. Cindy of New Mexico Wine & Scenic Tours offers door-to-door transportation from your hotel or lodging location. Your day includes a half-day rafting trip on the Rio Grande's Racecourse section of the river, followed by a picnic and wine tasting tour around some of the north country's award-winning boutique wineries. Yes we have the oldest wine country in the U.S. (yes, it is older than California's).  You'll want to contact Cindy of New Mexico Wine Tours to book this trip. 
New Mexico is an excellent fly-fishing destination, year-round. Jarrett Sasser of High Desert Angler and his crew of expert guides  know the best public and private access spots that will satisfy your inner angler. They are the top fly-fishing outfitter in New Mexico.
While in the Southwest, one way to see the beautiful vistas of rolling hills, mountains and plains is on horseback. Taking a horseback ride with Santa Fe Western Adventures puts you back in the saddle and whisks you away to a simpler time. During the summer, I recommend the early morning or sunset rides. Owner Russ Dillon will need to know your age, height and weight, and any horseback riding experience you have. It's a perfect family activity.
Rides take place on Russ's private ranch, which has been in the family since 1954. You'll enjoy varied terrain and beautiful views. The Sunset Ride includes a short hike up the historic landmark Lone Butte Mountain, for an unobstructed view of the spectacular New Mexican sunset. Santa Fe Western Adventures offers 1 hour and 1.5 hour rides in true Western style. It's best to call Russ directly to book your ride at (505)473-9384. Or click this link for more info. Oh, and you better not try to rely on GPS to find the ranch, Russ will give you the easy, correct directions when you book. Remember to mention Santa Fe Selection when you call.
More Fun Adventures Indoors
Take a food tour around one of our popular historic or contemporary districts. Tickle your tastebuds with the flavors of New Mexico, and acquaint yourself with some of our top chefs, distilleries, wineries, and breweries.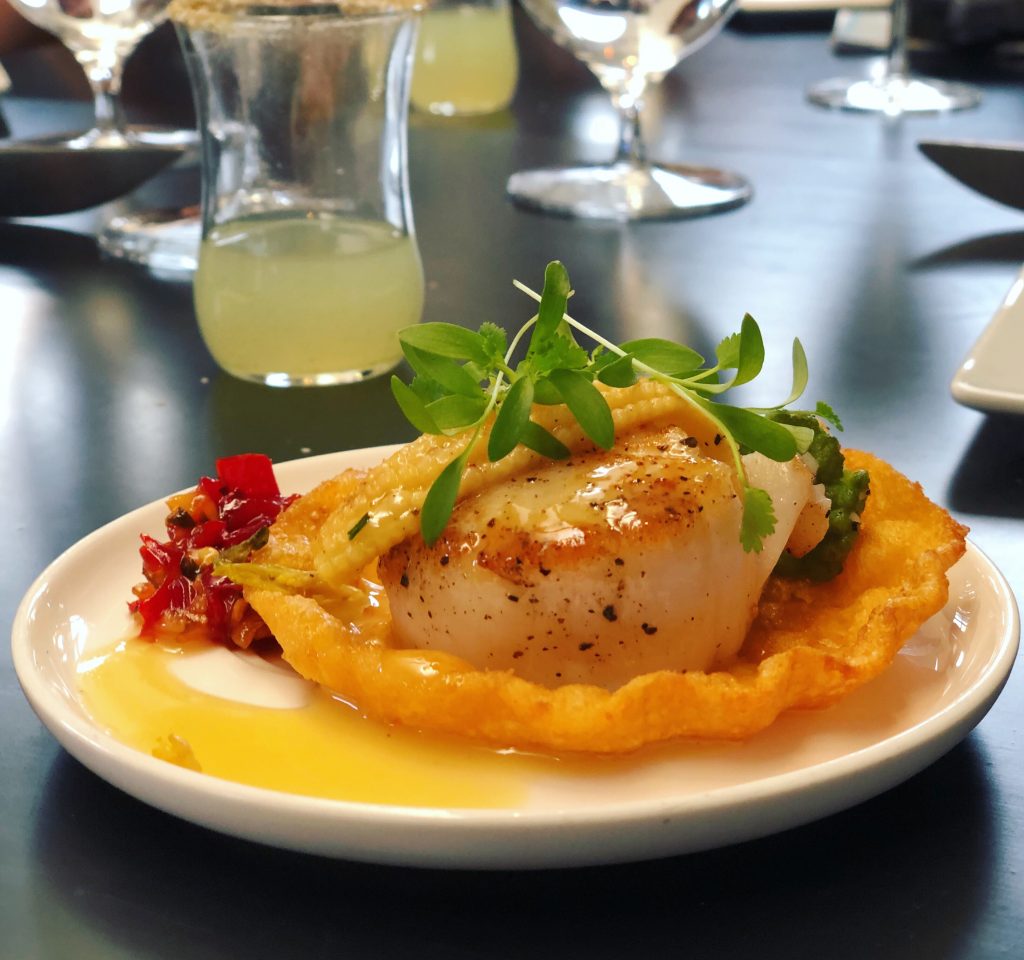 Food Tour New Mexico is the top operation in Santa Fe for their fun and delicious food tours. They offer a variety of tours in Santa Fe and Albuquerque. In Santa Fe explore the popular Railyard District, historic Plaza area, and Canyon Road. You'll be stopping at various culinary venues to taste the food and libations, learn of the area's history and traditions, and meet some of the talented chefs who contribute to making Santa Fe one of the top foodie destinations in the country. Use the promo code at this link to book and get a special Santa Fe Selection discount off your tour.
If you prefer to roam further afield and be driven, then I recommend taking a Wine Tour or a Brewery Tour with New Mexico Wine & Scenic Tours.
There are many quality boutique wineries in the state. Northern New Mexico is home to enough of them to make for a great day's excursion. And you don't have to worry about driving. Let Cindy do that, and you just sip, taste, and enjoy.
Closer to town there are a number of local breweries and brewpubs to savor. New Mexico Wine & Scenic Tours will pick you up from your lodging location and take you on a tour of the Midtown Innovative District and thereabouts, where you can sample the flavors of our local artisanal beers, and kick back.
Chocolate Experience on the Chocolate Trail
I love chocolate and I don't know many folks who don't, so add this one to your list…Just at the southside of Santa Fe, (if you're driving into town, it's right as you exit the I25 at exit 278, in the Santa Fe Fashion Outlet mall. Stop by to visit Sweet Santa Fe Artisan Confections & Cafe for the best hand-made, hand-rolled truffles, sipping chocolates and numerous unique, multi award-winning confections. If you want savory first, you can enjoy a full lunch menu at the cafe, followed by a wide variety of delicious truffle flavors, including but not limited to:  Margarita, Mango Habanero, Strawberry Champagne, Raspberry Chipotle, Blackberry Balsamic, Pina Colada, Jalapeno Lime, Grand Marnier, Mexican Traditional, Cherries Jubilee, Expresso, Marcha, Lemon Lavender, Mint to mention a few.
Did you know there are 13 steps to making traditional Chocolate Truffles?  You can very often find Cindy and Diana at work on any one of their numerous unique truffle flavors. When you stop by, mention Santa Fe Selection for a sweet treat!
For many more of my recommended day trips, tours, attractions, and fun things to do in and around Santa Fe year-round, plus lodging and restaurant recommendations, go to SantaFeSelection.com Travel Guide.
To get your free Mini Guide Map mailed to you in the U.S, please send me your complete name and address via email to Maria@santafeselection.com.
Thank you for reading my blog. If you'd like to receive my monthly articles about Santa Fe attractions, its people, traditions, art, events and culture, please send me an email to Maria@santafeselection.com