Intended as a one-time event in 2004, the International Folk Art Market in Santa Fe is now the largest of its kind in the world. Now, this highly anticipated extravaganza is held every year, usually the second weekend in July, in Santa Fe. Since it began, as many as 650 master folk artists from as many as 80 countries across six continents have participated. I hope you enjoy the following visual record I took at the 2013 market. I tried to make note of everyone's name and country, but I admit I couldn't keep track of them all.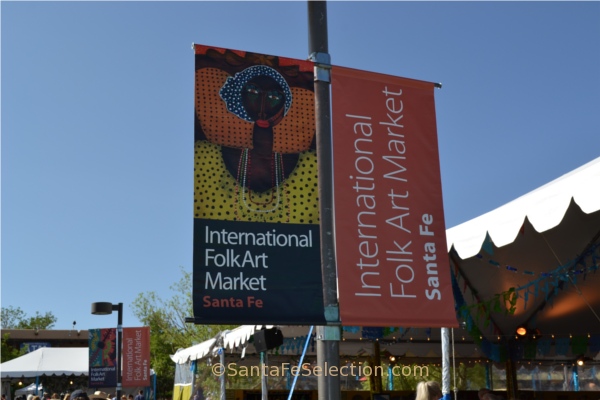 It is a global event in many ways. Where else can you find so many fascinating people and cultures gathered in one place? You can literally take a stroll around the world. Wend your way under the canopies, and be awestruck by the vast displays of art flowing in waves of color and texture like a global smorgasbord.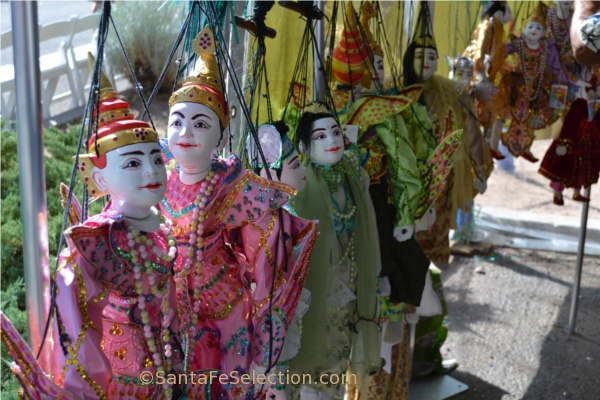 Visitors from all over the globe gather in Santa Fe each July to experience this weekend celebration of folk art, music, food and fun at Museum Hill's Plaza, surrounded by expansive vistas and mountain ranges.
Kenya, Japan, Madagascar, Nepal, Kyrgyzstan, India, Korea, Venezuela, Swaziland, Palestine, the Kingdom of Tonga and Peru are just a few of the countries participating. Wood carvings, pottery, textiles, jewelry, clothing, sculpture, beadwork, basketry, retablos, musical instruments; if you can imagine it, it is probably at the market along with many things you haven't begun to imagine.
Artists keep working on pieces as the market bustles around them.
Over the years, many artists have won numerous awards and gained celebrity status, and a loyal following of collectors world-wide. Elhadji Kumama is a well-known jeweler and member of the Tuareg metalsmiths.
The Tuareg lead a nomadic lifestyle. They keep moving in search of areas that will help them earn an income, so they can send money back home to support their families. They use simple tools and fine stones and silver to create a variety of accessories. Jewelry-making is an easily portable trade for a nomad.
Situated between the Museum of International Folk Art and the Museum of Indian Arts and Culture, Museum Hill's Plaza is the ideal location for this event. There's plenty of room for all the tents and stalls, juice stands, food booths, the stage and cashier booths.
You don't have to be an art lover to appreciate the uniqueness of this world event. All weekend long, musicians from far off lands perform on the stage.
As live music rides the air, you can spend a summer's day strolling from country to country, visiting fascinating people you may never get to meet otherwise.
Food tents offer shade and a place to refuel with delicious fare from local restaurants, such as one of our faves, The Cowgirl, and many others. There's also the Museum Hill Café situated alongside the market.
The ripple effect from this event is testament to how art truly can change and save lives. Over a million lives have been positively impacted by the boost of funds the artists bring to their home communities. During one weekend in Santa Fe, most artists earn as much as ten times their entire annual income back home. So far, an estimated 16 million dollars has been generated from sales. Artists take home 90% of their earnings, which contributes to better living conditions, clean water, schools, medicines and agricultural supplies for their villages.
For women to have earning power contributes to radical changes in their community in many villages, by winning them a voice in local politics. This enables them to work toward ending ancient traditions that inflict pain and hardship on the female population of their cultures.
The Folk Art Market's events usually begin on the second Friday of July with an Opening Party, and continue through the weekend with interesting lectures, concerts, movies and workshops held at various locales around town, including MOIFA, the Railyard Park, and the Lensic Performing Arts Center.
TICKETS
Tickets go on sale May 1st, online at: http://www.folkartalliance.org/markets/
See the year's schedule of events at http://www.folkartmarket.org/coming/market-schedule/
LODGING
The International Folk Art Market is creating such a buzz that many collectors, enthusiasts, and the casually curious are booking their stays as far as six months to a year in advance. It isn't unusual for Santa Fe hotels to be fully booked during this July week. See our list of favorite lodging options to find the right fit for you.  If you'd like help finding the right place for your needs and budget, call me, or email Maria, at info@santafeselection.com (Santa Fe Selection Travel Guide) (505) 470-2991.
TRANSPORT
There are multiple options for transport to Museum Hill. If you drive, there are some parking areas surrounding the market, but it's usually a bit of walk to get tot he market entrance. Some hotels have shuttle buses. There are free shuttle buses that run throughout the day all weekend from the Capitol Parking Lot in downtown Santa Fe. There's also New Mexico Wine & Scenic Tours, owned by Cindy Capelli, who'll arrange custom shuttles, whether you're a guest in a hotel or vacation rental, or a local. Call Cindy at (505) 250-8943 with your questions and be sure to give at least a couple of days' notice if you want to book a custom ride.
In 2015, the market will be held July 10th ,11th  and 12th. Tickets are available online starting May 1st, 2014 at http://www.folkartmarket.org/coming/tickets/, and thanks to it being a non-profit organization, a healthy portion of the ticket prices are tax-deductible.
A day or two at the Folk Art Market leaves you feeling as if you've taken a fun and easy walking tour of the world – without the eternally long flights and customs hassles!
For more on the International Folk Art Market in Santa Fe go to: http://www.folkartmarket.org/
For more on the International Folk Art Museum go to: http://santafeselection.com/museums/museum-of-international-folk-art
For more on the Museum of Indian Arts and Culture go to: http://santafeselection.com/museums/museum-indian-arts-culture
For lodging recommendations go to: http://santafeselection.com/lodging