People are often amazed to hear that the fly fishing in Northern New Mexico is excellent throughout the year, or, for that matter, that there is fishing of any sort in the high desert.
Jarrett Sasser, owner of High Desert Angler, is the go-to guide and resource for all things fly-fishing in and around Northern New Mexico. "I get a lot of people asking me, 'Where do you fish here?'," says Jarrett, "because they can't believe there's enough water in the high desert. I pull out the map and show them at least 14 or 15 different places, all within a two-hour drive of Santa Fe. There is no closed season here. We've got lakes, big river and small river fishing. We're lucky we can run the seasons."
The Sangre de Cristo Mountain Range forms the southern tip of the Rockies. The Chama, Pecos, Rio Grande, and Brazos Rivers run through Northern New Mexico. There's a wide variety of trout in these waters, including Rainbow, Brown, Rio Grande Cutthroat, and Brook, along with Smallmouth Bass and Northern Pike. There's also a land-locked salmon called Kokanee, which is of the Sockeye species.
For more than fifteen years, High Desert Angler has been the top fly-fishing company in Santa Fe. Over time, Jarrett and his dedicated team have cultivated strong relationships with landowners in Northern New Mexico and Southern Colorado. They have access to some of the best private rivers, lakes and streams you can find.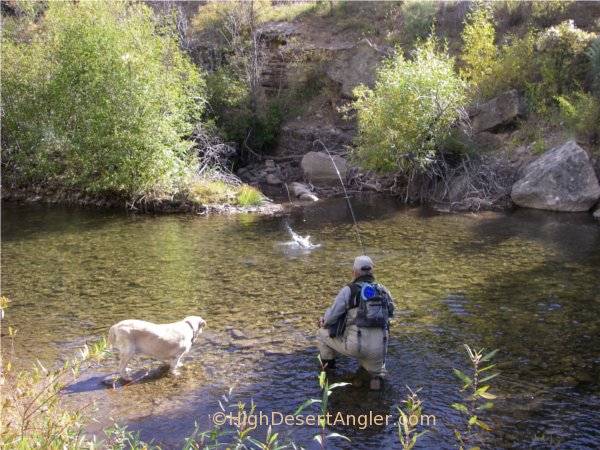 Jarrett grew up bass fishing in Austin, Texas. His grandfather was a guide in the North woods during the Depression, and he passed along a "few basics" to Jarrett. He also realized Jarrett had a knack for fishing and told him, "You could make a living at it." To hear Jarrett tell it, it sounds as if he spent most of his childhood angling (pardon the pun) to skip school so he could go fishing. "I was pretty keen to fish," he says with a smile.
It wasn't until he arrived in Santa Fe that Jarrett took up fly fishing. Since his arrival, in his late teens, his passion and determination set him on course to fulfill his dream of becoming a guide. He sought work that kept him close to the water or the sport in some way. He worked as a river-rafting guide, and in the retail store for a fly fishing outfitter called High Desert Angler, then owned by Jan Crawford.
"Jan was a good mentor," Jarrett says. "She taught me the management side of the retail business." It took some time before Jan allowed Jarrett the responsibility of his own guiding trips. "I would work in the store without pay, so I could borrow equipment and head out to practice alone. That way I could keep learning from doing and hone my skills to become a guide."
Meeting future wife Glory was another stroke of fishing fortune for Jarrett. Although Glory's family is from Northern New Mexico, Glory was born in New Zealand. When they went for a visit, Jarrett took to the Kiwi waters with ease, gaining more worldly experience. He has since traveled extensively to fish in both fresh and salt water in Argentina, Chile, British Columbia, The Bahamas, and Belize, to mention a few.
Back in Santa Fe, he began availing his skills as an independent guide. Jan and other outfitters sent him clients and it wasn't long before he was developing "a nice group of return customers."
In 1999, Jan wanted to sell the outfitting business. "It was around that time we found out we had our first baby on the way," said Jarrett. "Glory encouraged me to get a loan and buy the store. There were lots of changes coming." It was 2001 when they finally bought the business.
"It was a tough year to start up with 9/11, the economy, forest fires and many closures. But we trudged through."
Fifteen years and three children later (all of them anglers), Jarrett's High Desert Angler is going strong as the leading fly-fishing guide and outfitter in Santa Fe. They offer a variety of classes for all skill levels. "It's great to take out a family, individuals, or groups of friends. We show them how to have a great time, so they love it so much they'll come back for more."
The store has moved locations a few times, but now couldn't be more ideally situated on its tiny island amid the streams of Santa Fe arteries Cerrillos Road and Sandoval downtown.
The shop is well stocked with all the supplies, flies, waders, line, rods and all kinds of tackle anyone could want.
The worldly experience Jarrett and his guides bring to the business gives them an edge in knowing how to cater to the needs of anglers, no matter where they're from and what they're used to.  "The waters here attract anglers from around the world. It's good to know for someone calling us from, say, Argentina, that we'll have the gear and supplies they need when they get here."
The crew of seven guides have been with Jarrett since the beginning. All are experts in their field and either native to the area, or long-term transplants.
Norman Maktima is Jarrett's head guide. He is a local Native American from San Felipe Pueblo. In 1998, Norman was a junior member on Team U.S.A. at the World Fly Fishing Championships and became the only U.S competitor to win gold that year. He continues to compete annually for Team U.S.A, which takes him around the world, including Italy, Norway, Scandinavia and many others.
Global weather changes continue to affect everything, and New Mexico is no exception. In 2013, the Tres Lagunas and Jaroso fires coursed through almost 14,000 acres in the Pecos Wilderness area. Late summer floods dumped mud, ash and silt into the Pecos River. "It was very depressing," says Jarrett. "The river was black, the birds and bugs were gone. We watched it change in front of us. We hung in there and fished other areas during that time, and hoped the river would revive." The Sasser family live alongside the Pecos River, so they got to watch the next phase of Mother Nature's cleanup operation.
"In September, it started raining one day and the river slowly rose. The next morning the whole back yard was flooded. It was higher than I'd ever seen it before. It just kept rising. The flow was recorded at 5,000 cubic feet per second, and a 9-foot wall of water was plunging through the canyon – the highest water on record. The flood lasted almost 10 days and it flushed out the ash from the burn scars at a rapid rate. Now it's pristine again. It's pretty amazing. The water is crystal clear, and the wildlife is restored. The banks are primed for new growth in spring. We thought it would take years to come back. It's beautiful again already. Mother Nature needed to cleanse and she really did.
The entire corridor is better than I've ever seen it in 25 years. Now we're off and running. We're booking up for guide trips through 2014, and I'm excited about the conditions we'll have," said Jarrett.
It may be a little-known fact that Northern New Mexico offers top-class fishing, "But that's ok," says Jarrett, "we like it that way." The crew of High Desert Angler are some of these waters' best guardians and stewards and it's a good sign that they're looking forward to another year of great catch and release.
I'm resolving to make this the year I hang that sign on the door saying, "Gone fishin'!"
I'll let you know how I do.
For more information on High Desert Angler call (505) 988-7688 or go to: http://santafeselection.com/day-trips-activities/high-desert-angler  and learn details on the latest stream reports, guide trips, and various classes.