Santa Fe wears Christmas so well. From Thanksgiving through New Year's, its adobe parapets lined with farolitos, cedar and piñon burning in fireplaces, and the abundance of sweet-smelling spruce trees create an air of warmth and comfort against the backdrop of snow-capped Santa Fe Baldy. The Holiday nostalgia is easily rendered along Canyon Road as it offers up its historic sidewalks and alleyways to the paper and candle farolitos, which guide the way for hundreds of people as they walk and sing Carols on Christmas Eve.
The air may be cold, but the small bonfires, hot toddies and friends keep the heart warm, and Christmas past and present merge in the twilight.
A little side note: There is an age-old discourse on the proper use of the words "farolito" and "luminaria" in New Mexico. The word "farolito" means little lantern, and is applied to the small votive candles in the paper bags that line the streets, and rooftops.
"Luminaria" means little bonfire, which refers to the little bonfires on the streets, and has also sometimes been applied to the electric lights in bags. That said, the terms are often used interchangeably, which remains a source of continual, good-humored debate among locals. (Please drop a comment below if you can offer any further insight – let's keep the traditional debate going.)
Every year, Santa Fe begins its Christmas anticipation the day after Thanksgiving. People gather around 4 p.m. to watch as a vintage fire truck parades Santa and Mrs. Claus around the Plaza, eventually stopping to greet everyone.
Kids clamor to give Santa their Christmas wish lists, and after dark, (usually around 6 p.m.), the brilliant display of Christmas decorations light up the Plaza.
The traditional pick-up point for Santa and Mrs. Claus has always been The Shop – A Christmas Store just a few steps from the Plaza on East Palace Avenue.  Owned and operated by locals Rick and Janice Griego, The Shop is one of the oldest year-round Christmas and holiday ornament stores in the United States. They also help the city with the event decorations each year.
The Shop is a local and visitor favorite, stocked to the gills with EVERYTHING Christmas you'd expect and a ton more your imagination hasn't thought of yet.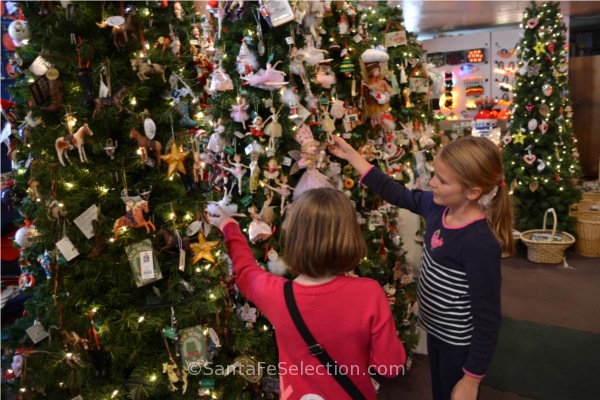 Rick Griego had no idea that he would graduate from college to eventually become the owner of a most successful Christmas shop downtown. Rick was born and raised in Santa Fe, in an area known as "the Barrio" or old neighborhood about ten blocks west of the Plaza. He attended Our Lady of Guadalupe, St. Michael's High School and New Mexico State University.
While in college, he met Janice Doyle, an Albuquerque native. They both graduated in 1983, Janice with a degree in Business, and Rick with with a double major in Criminal Justice and Government. Rick recalls, "It was during the Reagan administration and jobs were scarce, leaving many graduates either jobless or overqualified for minimum wage employment."
That summer, Rick returned home to Santa Fe to determine his next move toward a career in law. A friend of the Griego family introduced Rick to Ed Berry, the original owner of The Shop. Ed had opened the store in 1977. It was originally an antique store with a corner dedicated to Christmas ornaments by local artists. By 1983, Ed was in need of extra part-time help during the busy summer months. Rick was hired on the spot and as time ticked by, he stayed on. He soon became full-time, and then store manager. In 1989, Rick and Janice married and when Ed retired in 2002, they bought the store and have kept it running beautifully. In 2014, it will celebrate its 37th year!
The Shop also carries the largest stock of holiday lights for every occasion, including Easter and Halloween. Back in the early 1980s, it became the original birthplace of the now-world-famous chile lights we see in strands and ristras everywhere at all times of year.
Rick remembers Ed coming up with the idea. When some light strands they ordered kept losing their covers, Ed decided to pop the stems off a chile ornament and put them onto the light strands instead "et voila!"
"Everyone in the family was enlisted to put chiles on the strands," said Rick, laughing. "We spent hours and hours doing it, and every spare minute in the shop. We'd even take them home and spend evenings putting the little chiles on the lights while watching TV." Once Rick and Janice bought the store, they asked the manufacturer for a quote to make the chile lights, and the cost was little more than it was costing already. From then on, the lights arrived complete with chiles installed. They are now one of the biggest sellers in the store.
The extensive variety of novelty-themed lights includes roses, SpongeBob, butterflies, birds, Snoopy, cupcakes, the classic gingerbread men, and even those psychedelic-looking bubble lights that you can't find just anywhere.
In addition to the traditional and modern-themed ornaments from well-known makers around the globe, Rick and Janice have been working for years with as many as thirty-two local artists who create unique decorations just for The Shop.
For as little as a dollar and up to many hundreds, there is a terrific array of artworks to choose from. While the traditional arrangements remain popular, the special works by the local artists that include Southwest themes and iconic images are especially unique and have grown to become popular collectors items.
Kathy Peña is a local artist who creates amazingly detailed, themed Santas. All are adorned with her hand-made details, from the clothing to the items each Santa carries. There's the Mexican Pancho Claus, a Cowboy Claus, and Native American Claus.
She sculpts the faces from clay and paints them by hand and they have glass dolls' eyes. On Pancho Claus, the hat is the only thing that's bought. It took a long time to find something to fit the right scale, and at last Kathy's daughter found the perfect fit in Mexico. No two are alike – so for only $140, your Santa is an original.
Another very talented artist is Jil Gurule.  "She's our premier artist," Rick says, "we've worked with Jil for so long, she's part of the family. She has become an incredible artist over the years."
Jil works in various media. She makes beautiful clay Mud Head figures and a variety of lovely ornaments. "The artists' creativity never ceases to amaze me," Rick says. "They always manage to surprise me with their imaginations and incredible talent."
"I never imagined I would graduate college and end up still here in Santa Fe at The Shop after all these years, but there's nothing like living here and working downtown so close to the plaza," says Rick, "I think the best thing about Santa Fe is its people, whether they live here, or are passing through. When you combine the people, the history, the mountains and the culture here, there's no place like it."
Year-round, Rick and Janice welcome hundreds of customers a day, and many return year after year to see what's new from the artists showing in The Shop's Christmas Wonderland. "It is a great place to work," said Janice,  "It's a happy place. Every day we get to meet people from all over the world. It's always great fun to see new faces and revisit with those who come back year after year. "
The Shop is a family-run labor of love. They are open almost 365 days a year, closing only for Thanksgiving Day, and Christmas Day. They close early on Christmas Eve. The rest of the year, their doors are open and the family business bustles like Santa's workshop, with Rick, Janice, Rick's sister Debbie, and nephew Cody taking turns at the helm.
For more information on The Shop call (505) 983-4823 or go to: http://santafeselection.com/unique-shops/the-shop-a-christmas-store
Additional Holiday Events For You to Enjoy:
Christmas at the Palace
When: Dec 11, 2015. 5:30 PM to 8:00 PM. Free Event.
Where: New Mexico History Museum and Palace of the Governors at 105 W. Palace Avenue.
Now, in its 30th year, this Christmas favorite brings folks together in true holiday spirit, for a visit from Santa and Mrs. Claus, hot cider, live music, and entertainment – in the legendary magic of the Palace of the Governors.  (The History Museum and Palace of the Governors will close early at 3 p.m. to prepare.) Enter through the Palace entrance at 105 West Palace Ave. The History Museum will remain closed in the evening.
Las Posadas
When: December 13, 2015. 5.30 p.m – 7.00 p.m. Free Event.
Where: The Santa Fe Plaza and the Palace of the Governors Courtyard
The New Mexico History Museum and Palace of the Governors hosts the long-held Hispanic tradition called Las Posadas.  This version recreates Mary and Joseph's search for a place to give birth to the Baby Jesus – and throws in a few devils for good measure. The annual candle-lit procession of Las Posadas travels around the Santa Fe Plaza and concludes in the Palace Courtyard. Stay for carols in the Palace Courtyard, along with cookies and refreshments. Free and open to the public.
The Santa Fe Botanical Garden – GLOW Event.
When: Starting December 3, 2015 and running through January 2, 2016, Thursdays – Saturdays 5 – 8pm. Last entry at 7.30pm.
Where: Santa Fe Botanical Garden at Museum Hill.
Experience a festive light display, meet Santa, enjoy food and hot toddies. Click here for details, location map and ticket prices.
Thank you for reading my blog. If you'd like to receive my posts via email, please send your request to me at Maria@santafeselection.com. And Happy Holidays! ~ Maria.