From mid-to-late August and through October (until the first crippling frost) is prime pickin' season at Salman Raspberry Ranch! And it makes for a perfect, easy day trip, only an hour and twenty minute drive from downtown Santa Fe, north through Las Vegas to La Cueva. They are also within easy reach of Taos, and the Enchanted Circle Scenic Route.
There's nothing better than a drive along empty, gently undulating roads under crystal-clear New Mexico skies to scrub away the mental sludge from the work week.
Add some beautiful, unusual landscapes and an hour or so of raspberry pickin', and you'll feel you've escaped all responsibilities and time-traveled to childhood.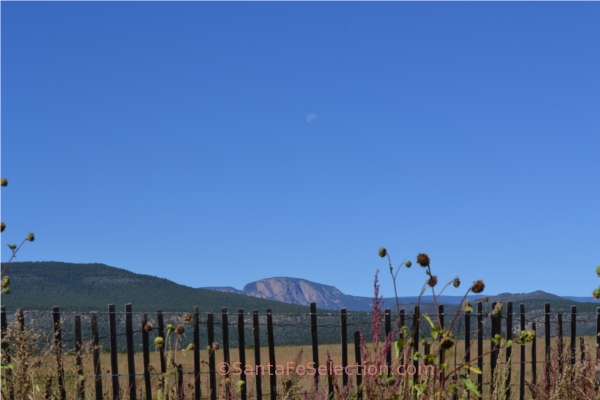 Every fall season from about late August to around the end of October, the Salman Raspberry Ranch fields are burgeoning with ripe, juicy berries.
For many New Mexicans, it is a family tradition to load up the car with the kids and the dog and head to La Cueva to harvest berries to last them through the winter – if they don't eat them all during the picking.
In the Salman Ranch Store there's a wide range of delicious culinary products from jams to vinegars, fudges, chocolates and sauces made from the year's harvest of raspberries, blackberries, and honey. Some also include New Mexico chiles for a scrumptious union to delight the taste buds. In the store (and online) they also offer a selection of gift baskets full of goodies; a great idea to take home, or give as gifts. It's very convenient for travelers and out of state residents that they ship the baskets for free anywhere in the U.S.
Across the quiet street sits the cafe.  Menu items include tamales, hot dogs, frito pies, barbecue pulled pork sandwiches, and don't forget the amazing soft ice cream sundaes!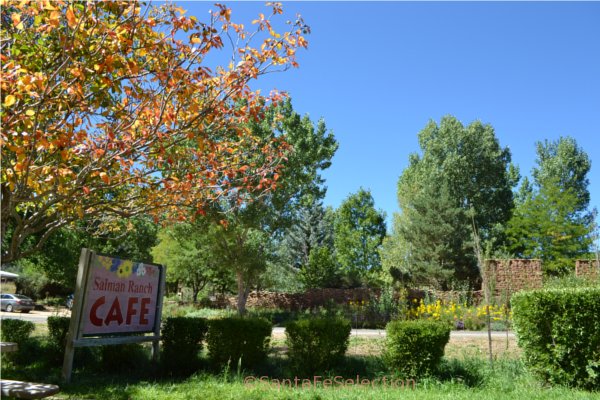 I opted to sit in the shade alongside the babbling acequia with a delicious, freshly-brewed raspberry iced tea.
Opposite the cafe are the Salman Ranch Gardens. An adobe wall encircles the gardens, where you can also sit and enjoy a picnic amid lush green grass, blooming wildflowers and majestic trees.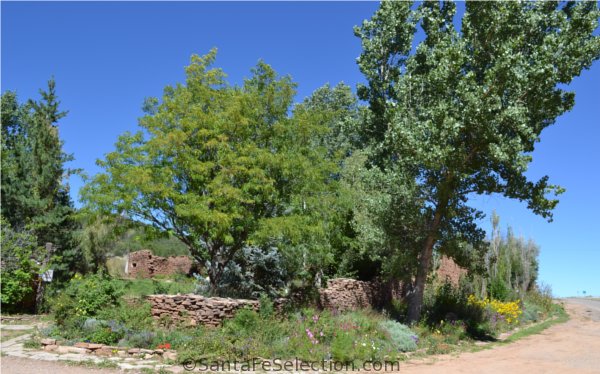 In 1851, Vicente Romero, a sheep farmer, bought the ranch land, 32,000 acres in all, which was originally apportioned to several grantees of the Mora Land Grant by Governor Albino Perez in 1835. Local legend says Romero slept in caves while tending his sheep and so named the area La Cueva. By the 1870s, many of the buildings that exist today were completed: The Mission Church of San Rafael, built by priests of Bishop Lamy's order, the ranch house and mercantile store, and the mill, which served Fort Union and surrounding areas with flour and electricity, up until 1949.
Romero's son Rafael managed the ranch after his father's death. The ranch was owed a lot of money by its debtors, including the government, and eventually, Rafael had to sell off portions of the ranch in order to stay afloat.
At the end of WWII, Colonel William Salman, who was then director of the Port of Le Havre, (the major landing site after D-Day) was in search of a safe sanctuary for his young family.
During the war, many of his immediate family had been killed in the death camps of the Third Reich. Salman and his wife Frances found the ideal refuge in La Cueva. They moved to the ranch in 1945, and by 1950 Salman had restored the 32,000 acres to its original Romero parcel.
Almost seventy years later, the Salman family still own and run the ranch, managed by daughter Frances.
The original 8,000-square-foot Romero-Salman ranch house still stands proudly overlooking the raspberry fields.
The entire area is picturesque. I wondered around for a long time snapping photos. It's an ideal place for artists and photographers to gather inspiration.
Lawrence Espinoza has worked on the ranch for 32 years, and talking to him, you can tell he loves it. He'll likely be at the stall to hand out pots for you to fill up with berries. When the fields are closed he works at helping maintain and cultivate the ranch. He told me about the many varieties of berries they grow, with names that stir the imagination, like Autumn Britain, Red Wing, Blue Wing, Polena, Carolina, Heritage and Polka.
They are all slightly different in shade and flavor and he tells me, "Be sure to pick them right. You don't pick the stem, only the berry. It'll slip off the stem like a little hat. If you want to make jam, pick the darker more ripe ones, and if you want to eat the fruit fresh, they're all good!"
Picking hours are Tuesday through Sunday 10am to 4pm until an autumn hard frost nips that activity in the bud. Lawrence said that he had heard there may not be a hard enough frost to interfere with the crop this year until late October. But this is New Mexico, so you never know. It's best to jump on it while you can.
A friend of mine went last weekend and picked six pounds of berries!  She's lived in Santa Fe for years and hadn't known about Salman Ranch until I told her, and now she can't get enough. This is testament to how much there is to discover in this state. There's always something new to explore, no matter how long you've lived here. She says she's heading back this weekend too. At only $6 a pound, why not? It is addictive when the fruit is so good and the place is so beautiful that the whole family loves it there.
It is a good idea to allocate the entire day to a visit to Salman Ranch. The drive is easy and fun as it takes you through the town of Las Vegas and along County Road 518 toward Mora. You can stop off in Las Vegas and check out the historic plaza area too, before heading home.
Hours of operation for Salman Ranch store, cafe, fields and nursery vary throughout the year. So call 1 866-281-1515 to find out the updates. Mention SantaFeSelection.com Travel Guide when you call!
Enjoy!