New Mexico was the first wine country in the United States, dating back to the early 1600s. The first vines were planted in Senecu, a Piro Indian Pueblo in the southern part of the state, by Fray García de Zúñiga, a Franciscan, and a Capuchín monk named Antonio de Arteaga. Sacramental wines were vital to the missionaries, and the vines they brought from Europe, known as "mission grape" or Vitis Vinifera, are still grown here today. By the mid-1800s, the fertile Rio Grande Valley, from Bernalillo to Socorro and Las Cruces to El Paso, had over 3100 acres of vineyards and had become the nation's largest wine producer, to the tune of almost a million gallons annually.
Pueblo revolts, harsh winters and frequent Rio Grande floods of the early 1900s proved too much for the vines, and by 1910, production had receded to barely 16,000 gallons a year. From 1919 to 1933, prohibition didn't help matters. But since 1978, New Mexico has seen a rebirth of its wine country. Dedicated viticulturists and vintners have nursed the annual wine production back up to as much as 700,000 gallons and as many as forty-two wineries around the state.
One such winery and vineyard, Casa Abril, belongs to the family of Raymond and Sheila Vigil and is tucked away in a little-frequented area of northern New Mexico called Budaghers, located exactly thirty minutes from Santa Fe and Albuquerque, along the Rio Grande River Valley.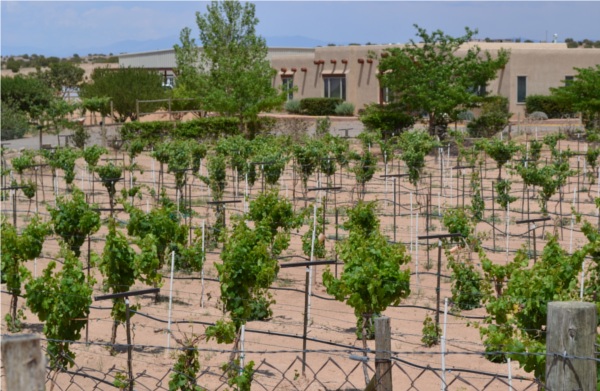 Sheila is a direct descendant of the first Romeros to arrive here in New Spain from the motherland, with Don Juan de Oñate in 1598. Raymond's ancestors were from the northern Spanish village of Vigil, and they arrived here in 1605.
During the early 1900s, Raymond's grandfather, Pablo Leyva, was a gold miner working in the small town of Golden. As the gold veins began to diminish, he moved to Madrid, New Mexico and worked as a brakeman in the coal mines. During this time, Pablo heard about a U.S government land grant advertising for settlers. Almost two thousand acres was divided into 350 acre parcels that stretched along the old Camino Real and was FREE to anyone willing to risk the perils of homesteading in those days. Only five families signed up. Among them was a Lebanese family named Budagher and, of course, Pablo and his wife Dolores. In Casa Abril's tasting room Raymond proudly displays the land grant signed by President Roosevelt in 1938.
A short distance from the Interstate 25 exit 257 lies the Vigil's quiet hamlet of homes, a family chapel and vineyards.  In 2001, the first hundred vines planted at Casa Abril were Vinifera Tempranillo cuttings from Spain. It takes four years before grapes can be turned into good wine. Raymond says with a broad smile, "We've drunk many mistakes."
In 2005, Raymond retired from his thirty-five years of computer tech positions in the corporate world and turned his efforts full-time to the development of the vineyards and perfecting the wines. They entered four wines in the New Mexico State Wine Competition held at the N.M State Fair under the categories of Amateur and Home-Made Wines, and won four bronze medals! Every year since, they've continued to win bronze, silver and gold medals. In 2009, they finalized the federal, state and county requirements to become a Federal Bonded Vineyard and Winery. In 2010, they held their Grand Opening.
After years of hard labor, ever since those first one hundred vines were planted, they have done an annual planting to expand the vineyards. Each season, buckets of their own vine cuttings sit ready to plant in the stark, pink, fertile earth. Now, their vineyards comprise 4000 vines, the largest in northern New Mexico, and in addition to the Tempranillo they produce Malbecs, Zinfandel, Tempranillo Rosè, Muscat Canelli, Sauvignon Blanc, Riesling, and Sangiovese.
The family continues to work on perfecting their wines and they continue to win awards. They produce approximately 12,000 bottles annually, and sell out every year to avid buyers around the country.
Casa Abril was named for the significant presence of the month of April in their family's history. To hear Raymond tell it, almost every reason for celebration in the family happened in April, from Raymond and Sheila's birthdays, to those of his grandchildren. Raymond and Sheila met in high school and were married in April. In 2010 the Winery's Grand Opening was held on April 25th – and the list continues.
There's no doubt this is a family-run business from start to finish. Each of the children – son Ray and daughters Jamie, Kamie and Jody – has a role in bringing the fine wines to production, from planting the vines to marketing the final product. Daughter Jamie is the vintner in the family. She knows when the grapes are ready to harvest, and monitors the sensitive balance required to ensure the right amount of sweetness and ripeness for the best results. She also shunts the giant vats, and preps and manages the bottling, among other duties. As Raymond says, "She's the boss!"
"We tried using wooden barrels one year," Raymond said, "No matter what we did to prevent it, they shrank in the desert dryness and leaked – a lot!" But don't think they haven't developed an all-natural means to add that special hint of oak to the bouquets.
The place is timeless and serene as it houses a thriving hive of modern wine industry. The warm, friendly atmosphere is that of an old friend, one who's known you all your life and your conversation picks up just where it left off, and the wine scintillates your senses.
Stunning views of the Jemez Mountain Range make the winery's shaded portal a great spot to relax and watch a dramatic performance of the rapidly changing New Mexico sky.
And you can't help but smile when Raymond steps behind the bar and begins his presentation of what he calls "a roller coaster ride of flavors." From the Tempranillo to the Sangiovese, and everything in between, add a touch of Marcona almonds and chocolate covered raisins and you're on your way from New Spain to Old Spain to Argentina and back again. My roller coaster partner Dave, expressed it best when he said, "It's more than good wine – it's an event in my mouth!"
As Raymond intertwines the tales of wine and history, you can sense his love and passion deeply rooted to his family, the land and the vines themselves.
I think some of those roots grabbed me by the ankle. They tug at me whenever I rush past Exit 257, dashing from one appointment to the next with time's broad hand at my back. I look to the little family chapel poking just above the line of the juniper and piñon-dotted hills, and I know the family is hard at work and I know I'll be back to visit before long.
Casa Abril is open ten months of the year, and everyone is welcome to "come taste the wine" – as the song goes – every Thursday through Sunday from noon till 5 p.m. with the exception of mid-December through January when it's just too darn chilly!) For more information call Raymond at (505) 771-0208.
If you prefer to be sensible and not drive, Cindy Capelli of New Mexico Wine & Scenic Tours is always available to pick you up and drive you to as many of the best wineries as you wish to visit, including Black Mesa Winery & Vineyard, Estrella Del Norte Vineyard & Winery, Don Quixote Distillery & Winery and many others.
New Mexico celebrates its rich wine culture throughout the spring, summer and fall with numerous festivals. The Santa Fe Wine Festival is held at the beautiful living history ranch, El Rancho de Las Golondrinas for a weekend early in July.
The Albuquerque Annual Wine Fest is usually held Memorial Day Weekend. And the largest is the New Mexico Wine Festival held in Bernalillo every Labor Day Weekend.
Though not exclusive to local wineries, everyone has likely heard of The Santa Fe Wine and Chile Festival,  an annual culinary event. For five days every September at the Santa Fe Opera grounds, as many as a hundred wineries from around the United States arrive to offer their best tastings. Enthusiasts can pair up their favorites with delicious food samplings from up to seventy-five of Santa Fe's best restaurants. Events include cooking demonstrations, guest chef luncheons, wine-pairing seminars, the Gruet Golf Classic and more. Tickets go on sale in early July, and they sell fast, so if you haven't got yours yet, now's the time!
For more information on northern New Mexico Wineries and Vineyards including Casa Abril Winery & Vineyards please go to: http://www.santafeselection.com/wine-country/wine-country.