For more than thirty-six years, Alan Van Pelt's specialty cutlery shop has literally been the source for the best cutting edge in Santa Fe. Tucked alongside the famous La Fonda Hotel, at the southeast corner of the historic Plaza, Cutlery of Santa Fe, with its creaking wooden floor and large glass displays, houses some of the rarest, extraordinary custom-crafted knives and utensils from around the world – most not easily found in bigger cities. Implements of myriad sizes, uses, and styles for every need, at prices for every budget, line this tiny store. But more than just a cutting edge, these tools offer insight into a wealth of history and artistry that I never expected to discover.
Some of the most elegant works include woolly mammoth tooth, obsidian, sapphires, rubies, and turquoise – just a few of the unique elements that adorn the steel that has its own beautiful design and interesting history. Damascus steel originated with sword-makers in Southern Asia and the Middle East, circa 300-400 B.C. The forging process included layering the steel as many as three hundred times, and a complex thermal cycling technique that allowed the organic layered patterns to appear in the blades.
Unlike other knife blades, Damascus steel is a unique composite of two or more alloys that are blended through the process of folding, heating and forging to render the ultimate in strength and sharpness.  It is the stuff of legends, with its fabled ability to cut through a falling hair, or to slice through the barrel of a rifle. There's no doubt this ancient technology makes for a dangerously sharp, durable edge and beautiful finished product.
The crafting of Damascus steel died out in the 17th century, perhaps due to the breakdown of trade routes from India's alloy sources, or the secrecy of the process failing to be passed on through generations. But since the 1970s, modern artisans, with new technologies have revived Damascus steel.
This pocket knife, with a handle carved from three-thousand-year-old oak and a Rain Drop pattern Damascus steel blade, is at once a collector's item and a highly efficient tool.
As any knife enthusiast will tell you, the blade is just part of the importance of finding the right implement. The Japanese Santoku kitchen knife is a very popular item with Cutlery of Santa Fe's foodie customers. Those with a culinary bent find the fine balance of a Santoku handle and blade makes for the most efficient slicing, dicing and mincing in food prep.
Alan has traveled extensively in search of specialty knives. In the small village of Maniago in northern Italy's foothills of the Dolomite Mountains, he found these miniature, hand-crafted pen knives that attach to your key chain. The various handle styles include rosewood, stag horn, and mother of pearl.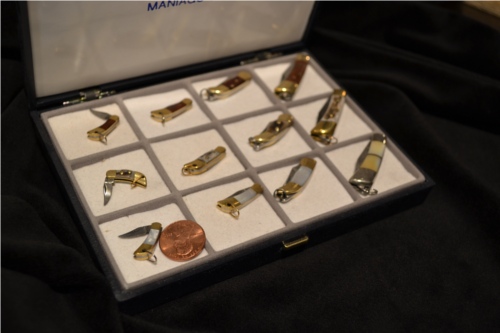 Since childhood, Alan has appreciated knives, their uses and art. "I've always liked pocket knives." He says, "I've given them as presents since I was a cub scout." It is clear he loves his trade. His collection extends beyond knives to include a variety of other handy implements, from embroidery scissors to corkscrews, carving sets and letter openers inlaid with turquoise, mother of pearl, lapis, coral, jet, and other rare and unique materials.
I particularly love this mesquite cheese board and spreaders infused with turquoise. At only $81 for the board and $15 for each spreader, what a great "prezzie" this would make for any household.
Every day Alan welcomes visitors and many a knife enthusiast who loves to discuss the craft and utilitarian value of the tools. He would be the first to tell you to always handle knives responsibly, as he deftly demonstrates the flick-of-the-wrist action with a specialty knife.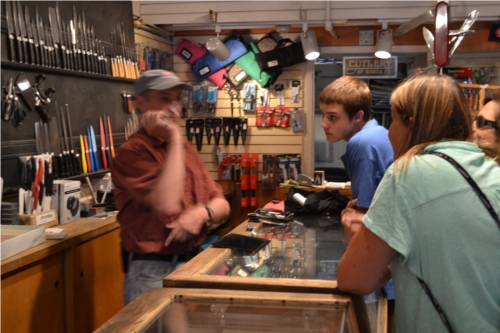 Stars of his collection are the custom-crafted knives, corkscrews, pocket knives, letter openers and more, made by Santa Fe Stoneworks exclusively for Cutlery of Santa Fe. Alan had the idea to inlay these steak knives with rare Siberian woolly mammoth tusk.
The six-to-ten thousand-year-old fossil with damascus steel blades and hammer detail make these sets extremely unique. Though these are at the high end of the price range at $1150 per set, they make the ideal gift for the person who has everything!
For as long as humankind has been on the planet, cutting implements have been an essential piece of equipment. Alan's collection of Daniel Bly hand-carved knives is reminiscent of man's first cutting edge. Though they appear primitive, they are extremely sharp and highly efficient.
The handles are of found deer antler and the blades are hand-chipped obsidian, which is beautifully varied in its color and translucency. The process of hand-chipping the blades is called "knapping".
Every one of these knives is unique and highly collectible. Alan just counted his 1001st Bly knife he has sold, since he first opened in 1976.
Cutlery of Santa Fe has many loyal customers located all over the U.S who call for new additions to their collections or utensil needs. This dining set with inlaid turquoise is another favorite…
…And the inlaid steak knife sets made locally by Santa Fe Stoneworks.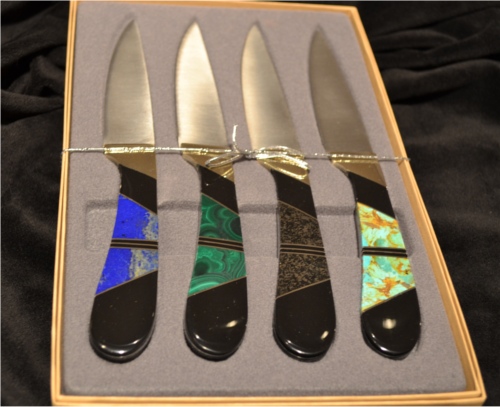 I must admit that beyond the utilitarian aspect, I had never spent enough time around knives to appreciate their craftsmanship and artistry.  By the end of my visit I was fascinated by it all. Before I left, I had to take a look at this masterpiece modeled after the original Bowie knife….
I couldn't figure out an angle that would encompass this huge piece and all its attributes in a single photograph. Its stag antler handle is inlaid with a medallion of turquoise and a silver Buffalo Head nickel…
Its brass "bolster" attaches to 416 layers of Damascus Steel in a beautiful, organic pattern, with an ornately fluted, serrated top edge. This piece goes for around $900…Jim Bowie would've been proud!
I really enjoyed my time spent with Al at Cutlery of Santa Fe – it opened a world I hadn't known about and expanded my appreciation for the cutting edges I've taken for granted in my own kitchen. Now I've certainly found a new resource for great gift ideas. Father's Day is just around the corner, and I doubt there's a man out there, dad or not, who wouldn't appreciate a slice of steel from Cutlery of Santa Fe. 

For more information on Cutlery of Santa Fe, please call Alan Van Pelt at (505) 982 3262 or go to: http://www.santafeselection.com/unique-shops/cutlery-of-santa-fe