There's a trend on the rise, and it started right here in Santa Fe! Everyone knows that since the mid-1800s cowboy boots have been a favorite of presidents and kings, and of course, cowboys, riders, wranglers, farmers and fashionistas all over the world. The myriad designs of hand-tooled, multi-colored leathers from cowhide to snakeskin, with the sloping stacked leather heel and pointed toe, never go out of style. But thanks to Roy Flynn, owner of our favorite custom cowboy boot store, Boots and Boogie, the custom-designed, hand-crafted, monogrammed boot is fast becoming a must-have amongst young women, particularly brides-to-be, all over the country. This pair is made from alligator belly on the foot and side stripe with cognac-colored, "mad dog" goat on the shaft, with a beautiful script monogram.
Roy Flynn and the Boots and Boogie store are true Santa Fe characters. When I visited Roy recently, it wasn't a surprise to find many people coming by just to chat awhile, and take photos of the tall cowboy and his unique array of high quality, custom-crafted boot designs that line the store like gallery art.
The living-room-sized sofa keeps you comfy while you try on boots, and take in all the artistry that surrounds you. It's easy to hang out for awhile when your friendly host obviously loves what he does. And sure enough, a young bride-to-be came in to get her very own pair of monogrammed boots designed for her wedding in July. She was wise to plan ahead; a custom pair can take anywhere from a few weeks to five months to make.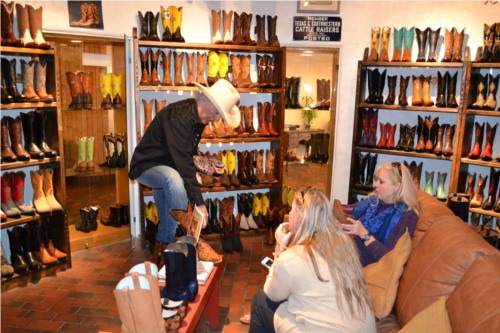 Along with the extraordinary designs come some of the most unusual skins, including shark, stingray, gator, python, anaconda, hippo? Yes hippo, and even bullfrog!
And if you don't see something you like, you can create your own design. Pick and choose from skins, colors, designs, heel and toe shapes and sizes to your heart's content.
Roy works with a select few specialty boot makers. He likes to think of them as the "Buick, Cadillac and Rolls Royce" of their trade. The majority of the boots are his own designs. He doesn't carry anything that would distract from the art of the boots in any way. Roy says, "Nothin' but boots allows for top-quality attention to the customer, the specialty design, service and finished product."  This shorter boot has a beautiful hand-tooled and painted rendering of Our Lady of Guadalupe.
When someone loves what they do as much as Roy loves being a "custom boot guy," it makes you wonder, do cowboys have more fun?  "I get to meet some of the d'rndest people," Roy says with his Texan lilt and beaming smile. "I have such a good time doin' this."
Another character and source of joy in Roy's life is Boogie, his 9 year-old Malamute. "There's nothin' mute about him," Roy says. "Boogie is a singer, and chatterbox. Every morning he sings along with me. It's hilarious."
Boots and Boogie and its wearable art is a Santa Fe attraction as worthy of a visit as a gallery or museum. In fact, at 73 years of age, Roy jokes about how Santa Fe is home to The Oldest Church and the Oldest House.  "We can add that it's home to the Oldest Cowboy Boot Guy too!" He says with a chuckle.
You'll find Roy in the El Centro Shopping Center, across from the southwest corner of La Fonda Hotel. I recommend that everyone, whether in the market for a pair of boots or not, stop by and say "Hi". You never know, you'll likely learn more about why, according to Roy, "There's nothing quite like being a cowboy late in life."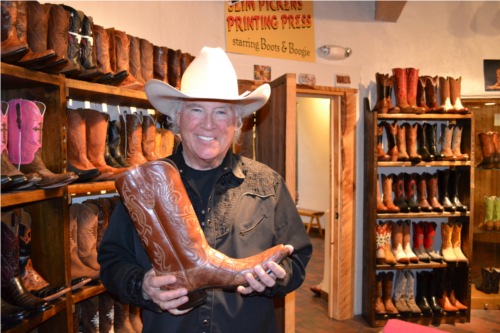 For more information on Boots and Boogie go to: http://santafeselection.com/unique-shops/boots-and-boogie
Or Call Roy at: (505) 983-0777 and mention you saw this article on Santa Fe Selection. Thank you!